Sympathy Flowers: Part III ... How to Order A Sympathy Arrangement
In my last
Sympathy post
, I talked about they different types of client who order sympathy pieces. In this post I'm going to cover how to order sympathy flowers, whether you're family, friend, or acquaintance.
Client: The Acquaintance or Colleague
This client needs to send something for the funeral / memorial service of a colleague or acquaintance. You want to let the family know you are thinking of them in their time of sorrow. The floral piece needs to match your style and budget; the enclosure card can be fairly simple.
To order, you will need to know the name of the deceased and the name of the funeral home handling the service arrangements. (If the funeral home name is known, the last name is enough.) It's helpful, but not necessary to know the time of the service and visitation. Not all services have visitations. Usually these are held the night before the service. Don't worry if you don't have this information; we'll call the funeral home and verify all information before filling the order.
Next you'll need to decide on what to send. This includes several choices that we'll guide you through. The basic options for an order going to the funeral home include: plant, arrangement (in a basket or container), or spray (an arrangement placed on an easel rather than in a container). After that, we get a bit more detailed: green or blooming plant, fresh or silk arrangement, fresh or silk spray. You can also send an arrangement or plant to the family home. The funeral home usually has this information for us if you don't. Sprays are not sent to the home, but are generally delivered to the funeral home for the service, both church and graveside. They are then left at the graveside.
The next two items are for personalization: budget and color/flower choice. We can give you a price range for each style or you can set your preferred budget for us. If the item is for an acquaintance, you may not have a color or flower preference. If not specified, we'll go with traditional male/female color associations (we won't send pink to a man's service) and we'll use the most cost effective flowers for your budget.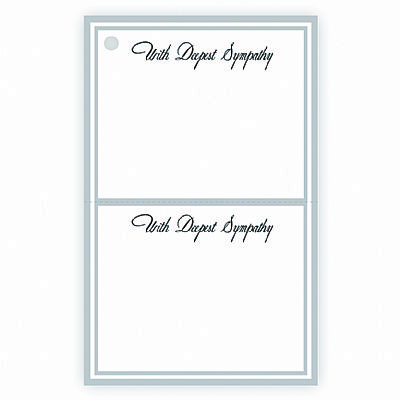 photo: JHC.com
There are two other pieces of information we will get from you to complete the order. First, we'll need to know what you'd like to put on the enclosure card. This is the small card attached to the plant, arrangement or spray. For items going to the funeral home, we use a two part card. One part stays with the piece. The other is detached by the funeral home and given to the family later so that they will know what was sent. We have preprinted cards that say 'With Deepest Sympathy' and 'In Loving Memory.' For the acquaintance or colleague, just adding the names of the senders is sufficient. We will ask for your address for the back of the card. This is for the portion of the card that goes to the family, and allows them to have all the return addresses for thank you cards.


That's it: name of deceased, name of funeral home, time of service, item to be sent, budget, flower/color preferences, enclosure card information. But you don't need to remember all this...we'll guide you through it as needed.
Client: The Family or Close Friend
These orders are more personal to the sender. They need to reflect the person being remembered as well as let the family know you are thinking of them. The enclosure card is usually a bit more personal.
In general, this client needs the same information as the acquaintance/colleague. (Name of deceased, name of funeral home, time of service, item to be sent, budget, flower/color preferences, enclosure card information.) However, since this client was closer to the deceased or the family of the deceased, we try to make the order more personal. If there is a color or flower you prefer or something that has special meaning, we will do our best to incorporate it. Keep in mind, for most sympathy pieces sent to the actual service (as opposed to the home), the card is open for the public to read. If there is a personal message, you may want to send a private card as well.
Client: Family of the Deceased
These are the clients actually planning the service. They are usually those who were the closest to the deceased and they are in the most pain and under the most stress. It's their job to finalize all the details. And it's my job to make the floral pieces as personal and as meaningful as possible. It's also my job to ease whatever stress I can during this time. This means being professional, taking all the time needed to reach a decision, reassuring the client that all the details will be handled according to their wishes.
To order these pieces takes a bit more time. In fact, we recommend scheduling a personal meeting to look at photos and so that we can get to know you and your needs. We will need to know the name of the deceased, the funeral home handling the service arrangements, and the time of the service and visitation. In addition, we will need to know your budget. This can be one of the most difficult and delicate subject to bring up. We know that you want to honor you loved one. We also know that you may not have a lot to spend on this. After all, it's not exactly a planned expense. Knowing your budget and learning about your loved one lets us create a personalized piece for you at whatever budget you may have. There are a wide range of floral choices, and we can work with any budget. If you know what you are comfortable spending, we will be able to guide you in your choices and design something personal to you and your family. We understand that this is one of the most stressful times of your life. Added to that, you are expected to make some pretty major financial decisions if a very short period of time. For some, this gives direction. For others, it just makes everything harder. We will do everything we can to ease this process. However, for us to do our job, we must ask about budget.
As the planners of this event, there are a few things to know about (and we will help with this as well). First there is the casket piece. This is also known as the casket spray or family piece. This can be a full- or half-casket design. For a closed casket service, you may choose either based on your likes, dislikes and budget. For an open casket service, you will need to choose a half-casket piece. This is designed to sit on the closed portion without hanging over the end or into the casket itself. While smaller than a full-casket piece, the half-casket spray can also work for a closed casket service. When properly designed and placed, it will not look too small (and may fit your budget better.)
If there are any cultural or religious items relating to flowers, please be sure to mention these. Some things to consider would be colors or flowers that signify death or are taboo at a funeral. While we try to remember as many of these as possible, we may not know specifics. It's better to remind us, than have the wrong flower used.
Coordinating Standing Spray
Some families also order coordinating pieces to come from immediate family members. These pieces can be sprays (on an easel) or arrangements (in a basket or container). For some families, it's easier for one person to order all the floral pieces. Others will call in and order based on what has previously been chosen for the the casket piece. Specifics will be based on budgets, likes, dislikes, and coordination to the casket spray.
Enclosure cards are not necessary for pieces from the immediate family. We will let the funeral home know which pieces came from the family. However, if you prefer, we can add a card to the coordinating pieces.
Ribbons or banners can be added to any sympathy piece. These usually designate the relationship of the deceased to the family or client. Common banners include: Mother / Father, Wife / Husband, Sister / Brother, etc.
One item often missed is the boutonnieres for the pall bearers. If you want to include these in the service, ask your funeral director if the funeral home provides these. If not, you will need to order them. These can be simple white carnations or roses, or you can coordinate these with the casket spray and other family pieces.
Finally, we must address payment. For orders from acquaintances/colleagues and family/close friends, payment follows the same rules as any other order. If you have an account, you can be billed. If not, you will need to pay at the time of purchase.
For the family, you can either be billed directly or through the funeral home. Again, if you have an account, payment can be deferred according to your account details. Otherwise, payments will need to be made at the time of purchase.
~~~ ~~~ ~~~ ~~~ ~~~ ~~~ ~~~ ~~~ ~~~ ~~~ ~~~ ~~~ ~~~ ~~~ ~~~
And that's how to order sympathy flowers. Many people rarely have to place these orders, and are therefore unsure of how to proceed. Remember, this is part of our job. So, if you're not sure what's appropriate in the situation, please feel free to ask us any question you may have. (And if I don't know the answer, I'll call one of the funeral directors that we work with and find out for you.)
Helpful Link:
Our Sympathy E-Store
-------------------------------------
Helpful? Not? Please leave comments....
------------------------------------