From Wedding Vendor to Bride: Week 4

Wedding Date Minus 26 Days (Monday, December 6)
* I made my final decision on the dress. After hours of soul searching, I realize that while a little bit of me wants to be the princess bride, that part isn't 6 hours long. And after looking at my expressions in the photos, I'm OBVIOUSLY having more fun in the non-traditional dress. So, non-traditional it is! It's a relief to have the decision made.
In Adrian's favorite dress...
In another traditional dress...
and in the non-traditional dress.
Note to all brides: when shopping for a dress, take a camera! It makes a world of difference for seeing how you REALLY look!
* Purchased the cutest faux-fur bolero jacket from ModCloth (because I HATE being cold). Now I need shoes.


* Met with the first caterer today. At the last minute, Jason couldn't go with me, so my sister went instead. Yummy bread pudding and crème brule! We should get the estimate tomorrow. After telling Jason all about the tasting, we realized that there had been a miscommunication and he wanted a served meal instead of a buffet meal. Emailed the caterer to see if this was possible.
* Talked to Karie about using real dinnerware. We decided that for the size of our guest-list, the real dinnerware works.

* Finalized the floral designs in my head--all except for a couple of large pieces. I'll order flowers tomorrow.
* Made plans with Karie to visit Compton Gardens this weekend for a walk-through, to decide the layout of the ceremony and reception, and to schedule the day.
Wedding Date Minus 25 Days (Tuesday, December 7)
* Not much happening today, just waiting to hear from the caterer.
* Had a few extra minutes (well, an hour or so) so I decided to look at Dillard's shoes. I found two pairs: a really cool black platform and a pretty nice silver peep-toe. Both have extra cushion so I can stand for several hours if needed. Couldn't make up my mind...I bought both!
Wedding Date Minus 24 Days (Wednesday, December 8)
* Ordered most of my flowers. I'll wait until next week to get the final few items.
* Today I'm making the FINAL final decision on my dress. I've definitely decided to go non-traditional. Fitting appointment tonight. Ended up trying on a couple more dresses. Yep, the first one I tried on is still my favorite. And it's non-traditional. I'm going to surprise Jason, so, on the very off chance that he will read this, details will have to wait until after the wedding. On a less fun note, I had to try on body shapers as well. NOT comfortable! I think I'll try Spanx...I've heard good things about them. Unfortunately, the black shoes are too tall for the dress. Silver it is.
I've been overwhelmed with the kindness of my friends and clients. Since posting the last blog last week, I've had several offers for dresses. Thank you!
* Michelle's dress is in! Adrian's should be in today as well.
* Whoops, I forgot to go by Eventures and double check the napkin color. It's on the calendar for next week now. Details, details.
* Still no word from the caterer. I'm emailing another to see if they are available.
Wedding Date Minus 23 Days (Thursday, December 9)
* Adrian's dress came in yesterday...and our first gift. Do we open it now or wait until the wedding?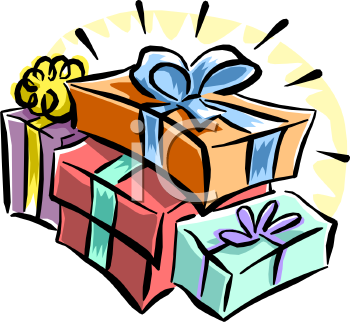 * Heard back from the 2nd caterer today. Price is a bit higher, but she provides plates, forks and stuff, so we won't have to rent that. It evens out. Got a great review of her as well.
* Adrian tried on the dress and her new shoes. WOW! She's all grown up! I think Jason almost cried when he saw her. She has to practice walking in heels now. 'Shoulders back.' 'Stand up strait.' 'take smaller steps.' ... all things my mom used to say to me and now I'm saying it!
Wedding Date Minus 22 Days (Friday, December 10)
12/15 note: no emails from Friday, nothing on the calendar. Is it possible that I didn't do anything wedding today?
Wedding Date Minus 21 Days (Saturday, December 11) THREE WEEKS!
* Except for returning the black shoes (and finding some really great boots), the only wedding stuff today was shopping for undergarments. Dillard's carries Spanx, so I tried those. MUCH more comfortable. If you absolutely have to wear shaping garments, I'd go for the Spanx!
Wedding Date Minus 20 Days (Sunday, December 12)
* Met with Karie at Compton Gardens today. We decided where everything would go and planned out the day. She's taking care of EVERYTHING! All I'll have to do is get pampered and show up. She'll make sure everything is set up, everyone is where they are supposed to be, and clean up afterwards! If I haven't said it before...a planner is worth EVERY PENNY and then some!
* Room layout…CHECK
* Ceremony schedule…CHECK. Jason and I will be walking down the aisle together. I was really having trouble visualizing the ceremony. Since we've both been married before, the whole walking down aisle and being 'given away' by my dad didn't feel right at all. Karie suggested Jason and I walk together.
* Music plan…mostly CHECK. (Just need Jason to pick some songs now.)
* Transportation…CHECK
* Pre-wedding pampering plan…CHECK
* Karie also gave me a list of things to take care of next week:
* Get the marriage license
* Confirm a caterer and finalize the menu
* Get Jason's suit purchased
* Stop by Eventures and check napkin color
That's all for now.
~~~~~~~~~~~~~~~~~~~~~~~~~~~~~~~~~~~~~~~~